Salmon leather
SALMON LEATHER
Sustainable fish leather in general and salmon leather in particular is an amazing material. The structure is both beautiful and long-lasting. Salmon leather is a byproduct from the fish industry. Sourced from fish farms in the nordic sea and tanned in Iceland. It makes me proud to work with an exotic leather that is scandinavian al the way true. remember that fish leather is not a substitute for other luxury materials, salmon is MUCH more luxurious AND exotic. It´s time to change that and Sibiren Stockholm is here to do just that.
I've made it my goal to show the world how beautiful and unique this leather is. The salmon leather is.
WHY SALMON LEATHER?
Originally, Daniel saw Sibirien Stockholm as an upcycling label, using crocodile leather. 'I started buying old portfolio bags in second-hand shops that I sewed into phone and Ipad cases. Then I went on to buy old crocodile bags to make high-end watch straps. The watch industry is quite conservative and I wanted to bring in a fresher alternative. 'Unfortunately, rules and bureaucracy put on the brakes. In order to recycle crocodile products in Sweden, you must prove that they were manufactured before March 3, 1947. This is to prevent sales of non-cites [Convention on International Trade in Endangered Species of Wild Fauna and Flora]-labelled goods to flourish, which is a good thing, but it was completely impossible to get hold of bags with the receipt inside from [before] 1947.' Ankarstrand also felt that going back to making products from portfolio bags wasn't an option by now, as they wouldn't have the quality he sought. He was determined to stick with ethical sourcing, and came across salmon leather accidentally. After ordering some samples, he fell in love with the material immediately.
IS SALMON LEATHER DURABLE?
Yes, salmon leather is extremely durable. The fibres  cross each other, compared to "plain" leather, whose fibres go lengthwise like wood witch make it extremely durable.  The leather has almost the same feel as suede with the character of snakeskin, but a more irregular pattern. Over time the salmon leather gain a beautiful patina similar to veg tanned leather.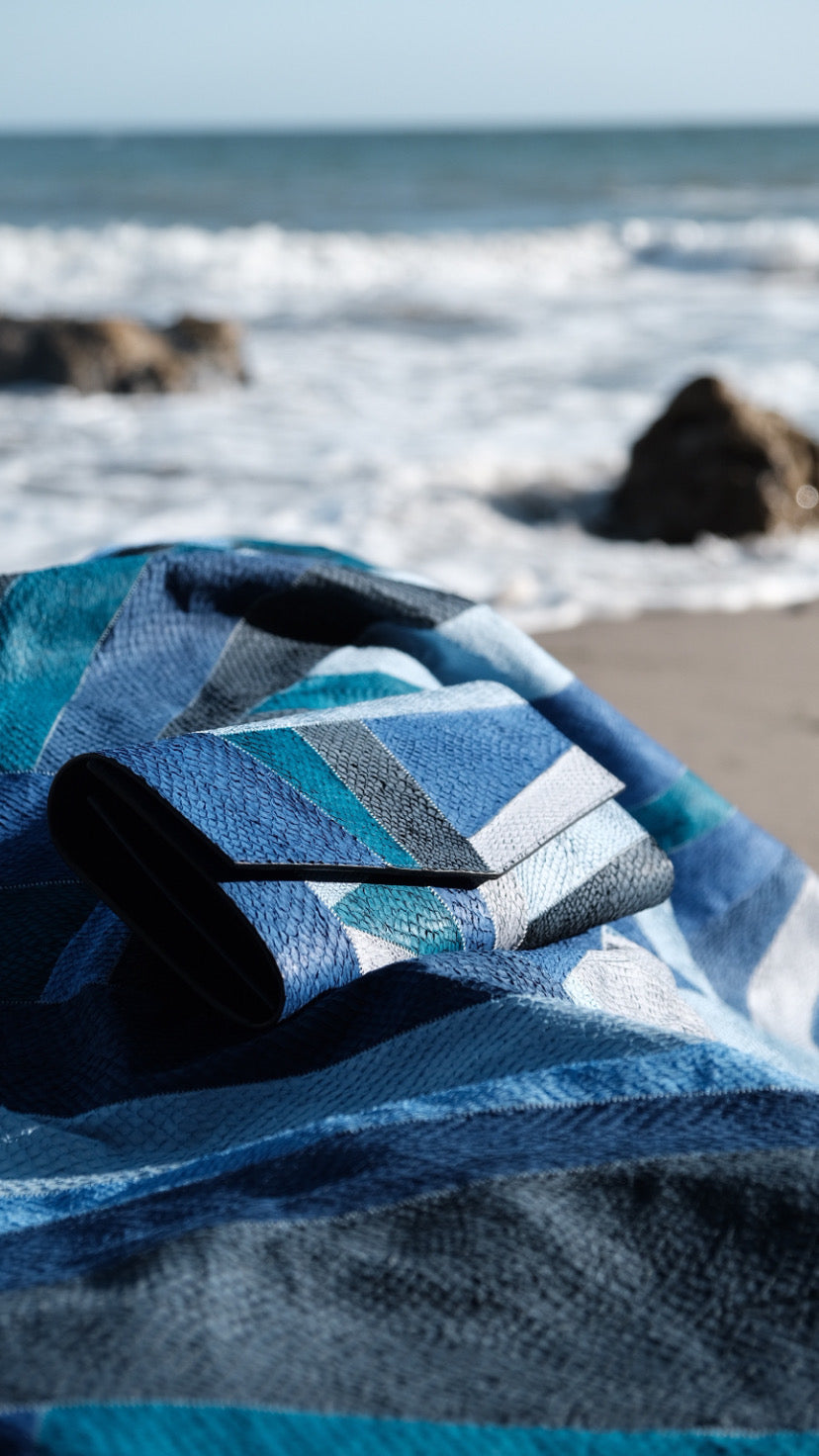 California Canvas
With "The California Canvas", Kristian Eddé is launching an exclusive opportunity to create "one of a kind" accessories with the buyer's personal touch.